Candy Creations: Delicious arrangements made with candy bars, fresh baked cookies, or both. Silk flowers and balloons may be added. Sugar free creations are available upon request.
$12.00 - $50.00 depending on size and selection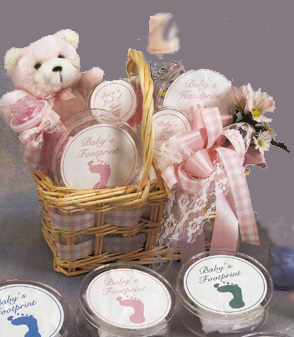 Gift Baskets or Boxes: Our baskets can be filled with delicious delectable themed for the occasion. Our baby gift boxes can be filled with baby hand print, foot print, lock of hair and first tooth containers. It also has a stuffed animal and some type of baby themed candy or cookie. Another baby gift idea is our baby box filled with hooded towel and washcloth set, baby bath wash, lotion, and powder. It also contains an adorable ceramic duck picture frame.
$20.00 - $40.00 depending on size and selection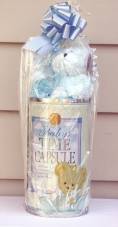 Time Capsules: A memory keepsake for graduations, weddings, or babies. It is a metal tin filled with a twenty one piece kit that records important events & memories throughout our lives. Items of importance are kept inside this capsule. Years go by and you open the tin and relive the memories.
$26.00 - $29.00 depending on type and additions to the capsule

Our corporate gift selections are gifts that will make a "sweet" impression!
Great for:
•Thank you gifts for clients
•Employees Birthday
•Client's Birthday
•Baby Gift for Employee
•Retirement
•Administrative Week
•Bosses Day
•Gifts for Picnics
•Incentive Gifts
•Holiday Christmas Gifts
•Employee Anniversary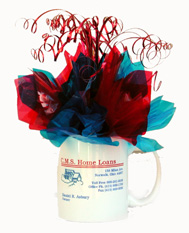 Sublimated Glasses filled with Chocolates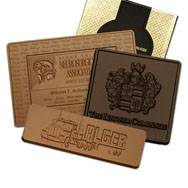 Engraved Laser Chocolates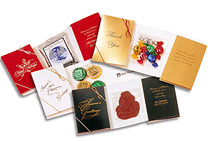 Greeting Cards with gift inside

Hospitality Mints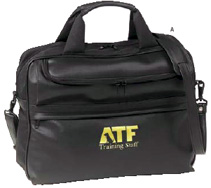 Promotional Creations
Are you getting married? Candy Creations specializes in "SWEET" wedding favors!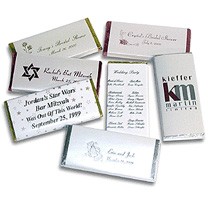 Custom Candy Bars with wrappers that have the bride and grooms name and date of wedding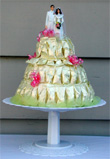 Wedding Cake Centerpieces made out of personalized candy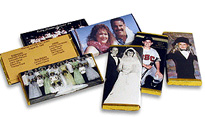 Photo Wrap Candy Bars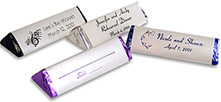 Chocolate Prism Bars that can be customized and used as tent cards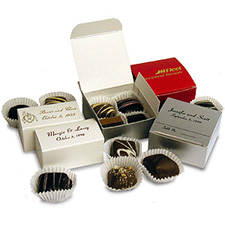 Custom Desgined Boxes which can be filled with Truffles or Jordan Almonds